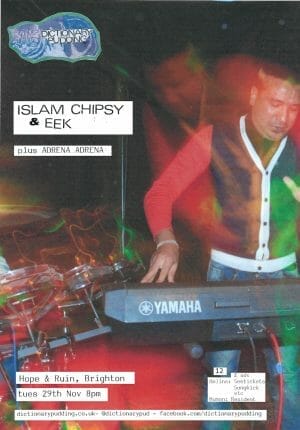 Archive — ISLAM CHIPSY + EEK
Hope & Ruin
Info
Dictionary Pudding present ISLAM CHIPSY & E.E.K. for a very rare live show in BRIGHTON!
Exploding out of Cairo, Egypt, Islam Chipsy and his band E.E.K. are a three-way force of nature described by those who've been caught in the eye of their storm as one of the most exciting live propositions on the planet.
Electro chaabi keyboard pioneer Islam Chipsy's joyous, freewheeling sonic blitz warps the standard oriental scale system into otherworldly shapes, flanked by Khaled Mando and Mahmoud Refat raining down a percussive maelstrom behind dual drum kits.
"Islam Chipsy's performances have been the stuff of legend outside Egypt for several years now, thanks to the circulation of various still breathtaking YouTube clips of his group EEK… in unbridled hyper-kinetic flow at gigs, weddings and street parties, as well as a series of international shows spoken of evangelically by those lucky enough to have seen them… They push at boundaries of dance-based music that are widely known and understood… It is astonishing, exhilarating, inventive music by any measure" – The WIRE
supports TBA
THE HOPE AND RUIN / TUES 29TH NOV 2016 / 12£ ADV
DICTIONARY PUDDING MAILING LIST SIGNUP:
http://bit.ly/29pWmgv