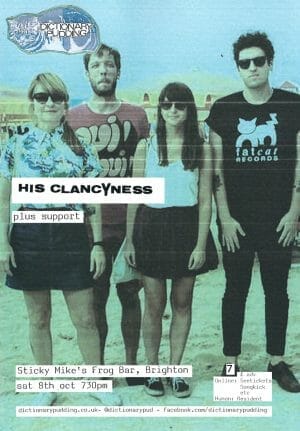 Archive — HIS CLANCYNESS
Sticky Mike's
Info
HIS CLANCYNESS
Alone, together. It's not a new state by any means but it so perfectly defines our life that it's hard not to think of it as a modern concept. At no other time has it been easier to be a part of a working civilization at arms length, on your own terms. Constant data mining and the omnipresent ad in the room provide zero shelter from any connection to "the outside" without sponsored content. No one could have predicted that connecting the world to itself would make it more insular. It's easier than ever to know what's happening at all times everywhere but even harder to know what people are actually thinking – literally Isolation Culture.
His Clancyness take this idea and turn it over across the 12 songs that make up their second full length. Is it so bad to want to be alone in the world? What does participation in a society mean anymore? Is communication a communal act or is it a virtual moment you have to log in to find the answer too?
Maybe the answer is that Isolation Culture is a group effort – it's not the result of a singular thought but a hive – a coming together, a commune. It's like a memory, there's focus and blur and something already known but the combination feels new, like right now.
Share the unknown / Isolate me culture.
plus support tbc
STICKY MIKES FROG BAR / 08TH OCT / 1930-2200 / 7£ ADV FROM SEETICKETS/SONGKICK/PARTYFORTHEPEOPLE / RESIDENT RECORDS